Having had a spectacular career working as the "right hand" to the Maestro Alan Ducasse, and having served as the chef of the Hotel de Crillon, recognized as Paris' finest gourmet restaurant, Jean-Francois Piege became independent in 2010. Immediately upon opening his own restaurant, he was awarded two Michelin stars. Catering to visitors from across the world, his restaurant has consistently used Giyaman Pottery. We asked Chef Piege about his extraordinary appreciation for Giyaman pottery.
Reasons Why Paris' Top Chef, Jean-Francois Piege, Loves Giyaman Pottery
Discovering Giyaman
Chef Jean-Francois Piege discovered Giyaman at the Paris head office of Christian Dior.
I want to express the origins of the memory of taste through Giyaman pottery.

"The first time I received my Giyaman Aizome blue bowls, I was able to complete the dessert blancmange recipe that I had dreamed of for fifteen years."

Blancmange is a traditional French dessert with a smooth taste and a rich sweetness. For Chef Piege, it holds a deep attachment to the origin of the memory of taste. Chef Piege's original blancmange features a crispy caramel on the surface, enveloping a fluffy texture on the inside.

"Blancmange is my most beloved dessert. I decided to serve my blancmange on Giyaman Aizome Blue as a form of hospitality to my customers."
Now, the perfect white blancmange served on Aizome Blue has come to symbolize Chef Piege. It is now recognized by people across the world who come to dine at Chef Piege's fine restaurant.

The first encounter between Chef Piege and Giyaman pottery dates back to 2010. "When I resigned as head chef of Paris' finest hotel, the Hotel de Crillon, and was struggling for independence, I dropped in to the Christian Dior head office. The famous Dior head office is at 30th Montaigne Street, the premier brand street of Paris, where many haute couture boutiques are located. There, in a corner, where Dior's top class buyers display their latest acquisitions for the world to see, was a set of Giyaman." Chef Piege reflects back on the moment. "I was stunned by the gracious curves, the gloss reminiscent of glass, and the sophisticated colors, it was almost too much beauty."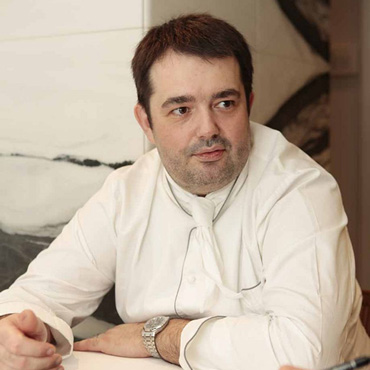 Jean-Francois Piege: Born 1970. After serving as master Chef Alan Ducasse's right hand man for many years, he was appointed as the general chef of the Hotel de Crillon in 2000. Going solo in 2010, he opened his namesake restaurant and was immediately awarded two Michelin stars. In 2014, he opened the bistro, Clover, and in September 2015 moved his restaurant, Jean-Francois Piege and changed its name to Le Grand Restaurant.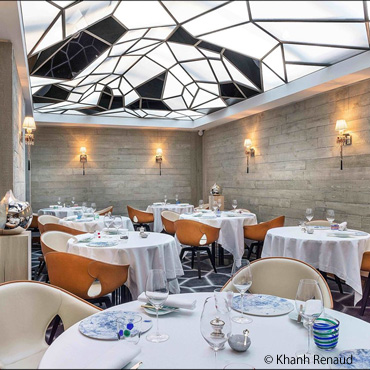 Chef Piege's restaurant is located in Paris' 8th district, just a 5-minute walk from the Elysee Presidential Palace. The artistic restaurant seats about 30, and features spaceship-like glass sculpture on the ceiling. The restaurant has a superb reputation for its warm and fine service.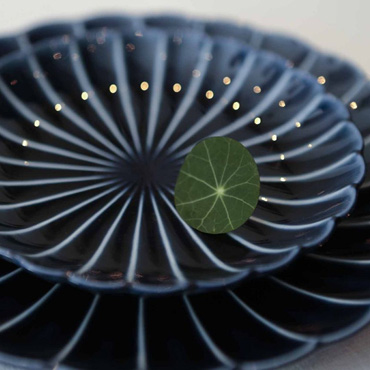 Chef Piege imagined the motif of Giyaman pottery to be the leaves of the lotus, or nasturtium. He says "The width and spacing of the leaf parts are perfect. I feel there is no way to complain about perfection."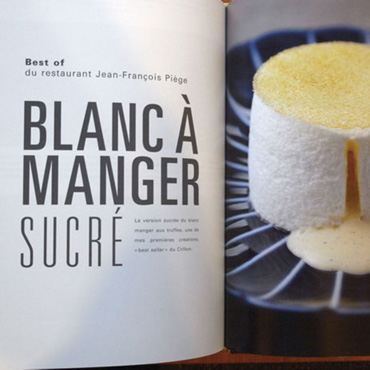 In December 2013, a recipe book "Jean Francois Piege" was published to introduce his delicate and ornamental dishes and sweets. Within that book is a large photograph of the chef's famed blancmange, sitting atop Giyaman ceramics.
Dinner Party Tableware
Adopted for the Finale of the "Dinner of the Century".

Giyaman pottery became widely known through its use at a banquet hosted by the world's most famous Champagne brand, Don Perignon, held in September 2012 at the Palace of Versailles in France. VIP's from around the world were invited to this "Dinner of the Century", catered for by Chef Piege. The dessert at the end of the evening was presented on Giyaman tableware. Commented Chef Piege, "I ordered additional sets for this diner party, as I cannot imagine my beloved desserts being served on anything but Giyaman."

It has been over eight years since he discovered Giyaman tableware , and Chef Piege also uses Giyaman at his home, where he uses it to serve special dishes to invited guests. He explains, "One of the reasons I have continued to use Giyaman tableware is because I feel the high degree of craftsmanship every time I use it. It is an important part in my presentation, and so I want to keep it close."

The premier Champagne brand "Don Perignon" held a special one-night event in the Palace of Versailles, France, in September 2012. This photograph shows the layout of the Salon of Hercules decorated with masterpieces. This banquet, known as the Dinner of the Century saw desserts served on Giyaman tableware. Chef Jean-Francois Piege, who served as the master chef for the banquet ordered 160 pieces of Giyaman tableware, which was admired by the various VIP's from across the world.